eXplore.
EXPERIENCE NATURE.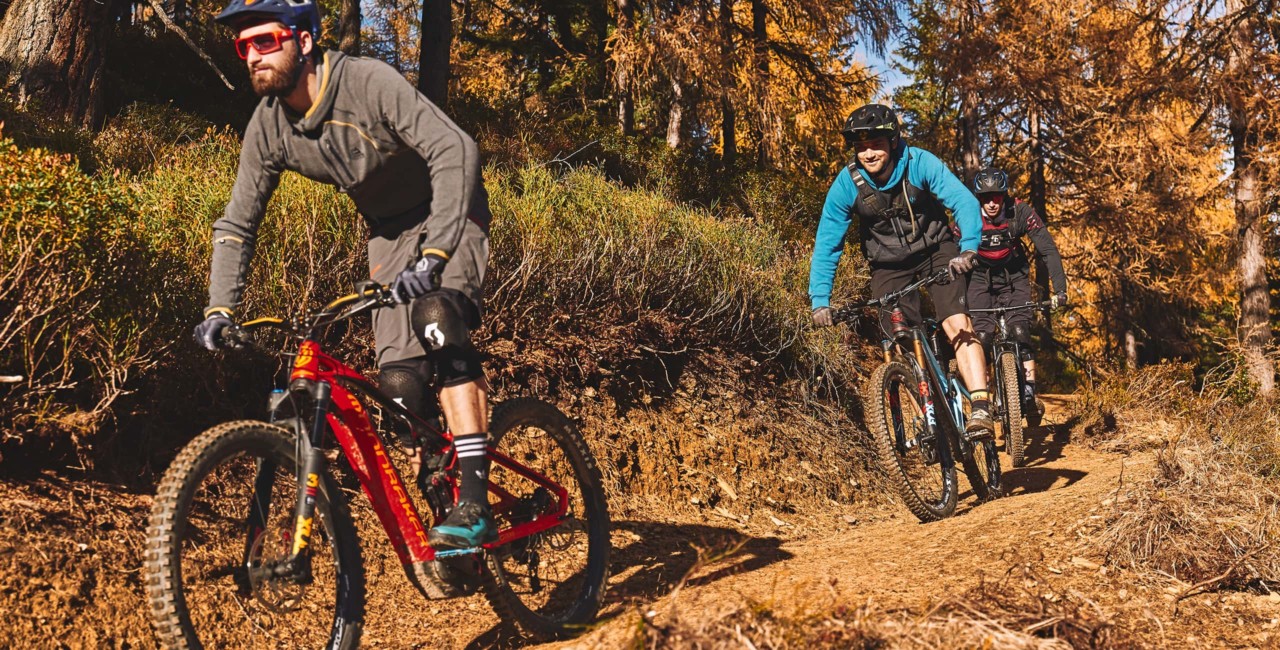 YOU WANT TO EXPLORE NATURE AND RIDE TRAILS CONFIDENTLY? OUR eXplore. COURSES TEACH YOU TECHNIQUES FOR GAINING SPEED, MAINTAINING FLOW, AND CONSVERVING MOMENTUM!
You have already gathered some experience on your mountain bike/e-bike and you want to become a better rider? We will take your mountain biking to the next level, by ironing out any bad habits and by building onto your strengths. Our experienced and well-trained mountain bike coaches will train you with the best and latest balance and steering exercises. We will work on advanced braking techniques, full cornering control, as well as efficient cornering techniques. Additionally, you will learn how to maintain and gain speed efficiently and to ride obstacles with style using the bunny hop or drop off technique.
HARD FACTS
COURSE CONTENT
Improvement of body position
Balance / Coordination / Agility
Advanced braking
Advanced cornering
Shifting
Uphill, Downhill Advanced
Gaining Speed
Basics of riding obstacles
Tips and tricks by our professionally trained coaches
ADDITIONAL CONTENTS E-BIKE
Getting on/off the E-Bike
Starting
Efficient use of the motor asstistance
YOU NEED
Mountain bike (Hardtail, Fully, e-Bike)
Bike specific helmet
Adequate clothing depending on the weather
We recommend riding glasses, full finger cycling gloves and knee pads
Lift pass when riding the bikepark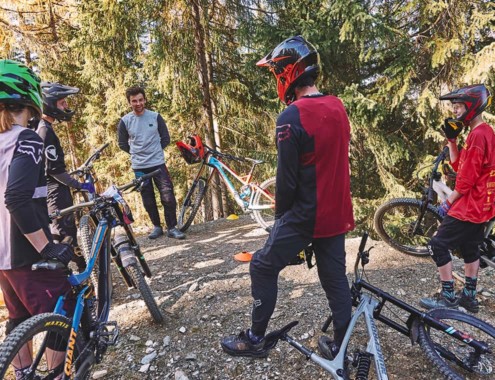 SKILL LEVEL
eXplore.
ARE YOU ALREADY MASTERING THE ESSENTIAL BIKE HANDLIG SKILLS AND ARE YOU READY TO BUILD ON THEM TO BOOST YOUR RIDING SKILLS? YOU ENJOY BIKING EASY SINGLE TRAILS, HOWEVER STEEP TERRAIN, ROCKS AND ROOTS MAKE YOU FEEL UNCOMFORTABLE? YOU WANT TO BECOME A MORE CONSISTEN RIDER BY GAINING CONFIDENCE ON CHALLENGING SINGLE TRAILS AND IN BIKE PARKS.
GET YOUR BIKE EXPERIENCE WITH US
PRICES 2021
| | | |
| --- | --- | --- |
| Courses for eXplore. | Units | Value |
| Group Course 1/2 day | 2h | 49€ |
| Group course 1 day including lunch break supervision | 5h | 99€ |
| Camp inlcuding lunch break supervision | 3 days at 5h | 269€ |
| Group course 1/2 day | 2h | 59€ |
| Group course 1 day | 4h | 99€ |
| Private coaching* | 1h | 69€ |
| Bike Fitting / SET UP | 1h | 69€ |
| Ladies Camp | 2 days at 4h | 199€ |
| E-Bike days | 2 days at 4h | 199€ |
| GUIDING & SKILLS** REGION 1 DAY | | upon request |
| Corporate events & INCENTIVES | | upon request |
*Price for 1 person per hour, for an additional participant 29€ are charged
** Guided tours with riding skills development for up to 12 participants

All group courses & camps: minimum of 5, maximimum of 8 participants
All services per person – lift tickets, rental gear, meals and accomodation are not included
DO YOU HAVE FURTHER QUESTIONS ABOUT THE COURSES?