Camps
With us, rookies and youngsters will spend exciting days in the bike park and learn how to mountain bike playfully and efficiently. In our 3-day long day camps we explore the trails according to your skill level. The first few sessions will take place within the Bike Area where you will learn the basics of gravity mountain biking. For our lunch breaks, we stop by at the Märchenwiesenhütte which is located directly beside the Bike Area.
Further sessions will then take you to the flowline, the jumpline, or the downhill track. Finally, we conclude the day by watching the videos and photos that have been produced throughout the sessions in the bike school office.
While kids and teenagers are spending an eventful day in the bike park, we recommend that parents themselves should go for a couple of runs in the bike park or explore the diverse leisure facilities offered by the region Schladming-Dachstein.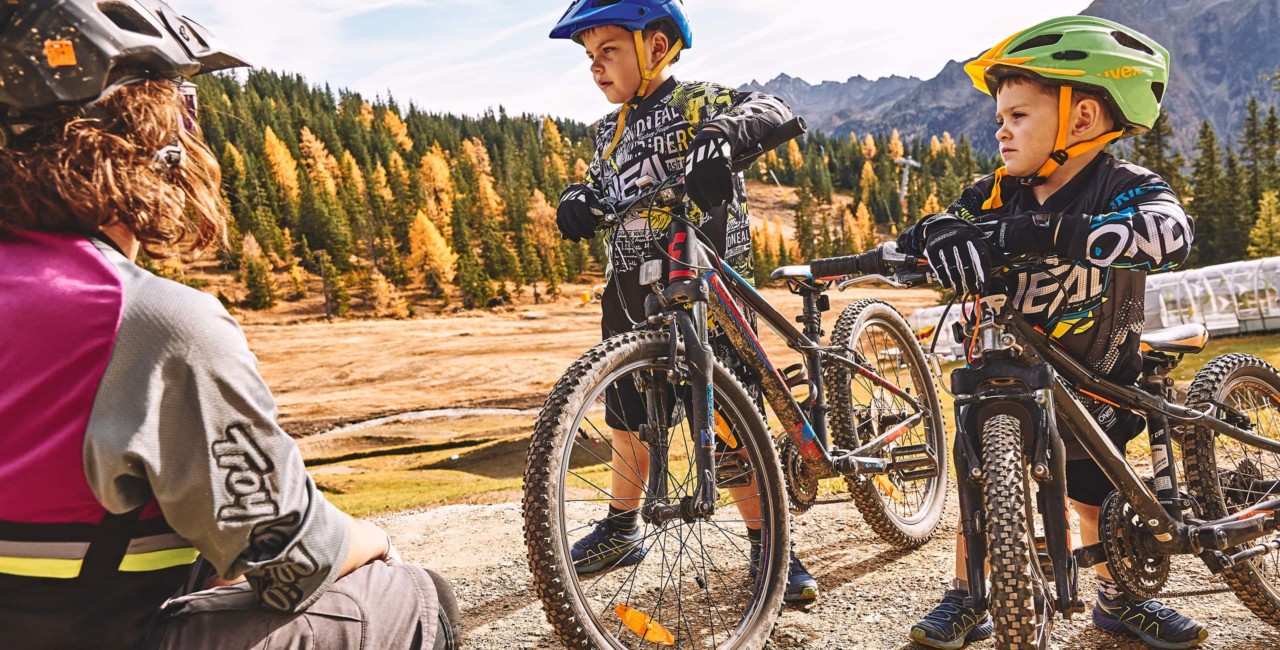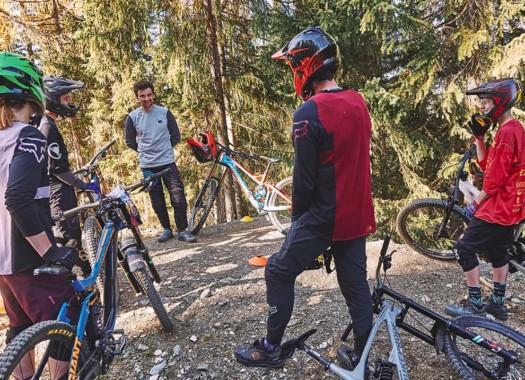 Groups are divided respectively to the rider´s age and according to our skill levels RiDE. (beginner), eXplore. (intermediate) und PROGRESS. (expert) je nach Alter und Können ein.
Following contents are mediated in accordance to the skill level: cornering-, braking-, accelerating-, safety-, jumping techniques and much more.
Minimum age: 8 years; 8 – 16 year olds; younger/older riders upon inquiry!
Minimum number of participants per group: 5 people
Breaks: The lunch break takes place in one of the huts in the Bike Park Schladming or in the Bike Office at the valley station.
Furthermore, on the trails there are several halts allowing to rest sufficiently. The bike park is located in midst of nature which gives us the chance to occasionally see wildlife with the kids.

GOODS AND SERVICES
All-day care in small groups including lunch break by our coaches.
Small give-away for every participant.
If a bike needs to be fixed our coaches will offer their support.
Consulting to adjust the bike correctly.
When: July to September 2021
Start: 10:00 to 15:00
Minimum age: 8 years; 8-16 year olds; younger/older riders upon inquiry!
Minimum number of participants per group: 5 people
GENERAL INFO
All our kids and youth skill courses focus on teaching various techniques playfully and age appropriate. Depending on various factors such as fitness level, coordinative skills, mountain biking experience, pre-knowledge, and receptiveness of kids, the course program is adapted.
Our coaches tailor the course contents to the needs of every group.
WHAT YOU NEED
• Fully functional bike suitable for the bike park
• Fullface helmet
• Downhill shorts/durable sport pants allowing sufficient movement
• Downhill shirt/bike shirt (functional sports shirt)
• Wind/rain protection
• Full finger cycling gloves
• Leg protectors (knee pads, etc.)
• Safety jacket (back- , arm- , shoulder protectors)
• MTB shoes/ trekking shoes
• Lift pass
• Declaration of consent signed by the parents (including allergy query; locally)
WHAT ELSE COULD I NEED?
• Neck brace
• Bike goggles
• Sun protection
• ID card (needed for bike rental)
• Drink (refillable Water bottle)
• Extra clothes (showers and changing rooms are available)
Last-minute changes due to safety reasons (weather) are possible.
The skill courses take place in all weather conditions!
Trail selection is adapted to the weather. Bring appropriate and weather-proof clothes.
Get your camp experience
PRICES 2021
| | | |
| --- | --- | --- |
| Our Camps for RiDE. | eXplore. | PROGRESS. | Units | Value |
| Camp including lunch break supervision (Sun. – Tue.) | 3 days at 5h | 269€ |
| Camp including lunch break supervision (Sun. – Thu.) | 5 days at 5h | 375€ |
| Ladies camp | 2 days at 4h | 199€ |
| E-bike days | 2 days at 4h | 199€ |
| Corporate events & INCENTIVES | | upon request |
All group courses & camps: minimum of 5, maximimum of 8 participants
All services per person – lift tickets, rental gear, meals and accomodation are not included
ANY FURTHER QUESTIONS?