Team events & incentives
A SPECIAL EXPERIENCE FOR YOUR EMPLOYEES!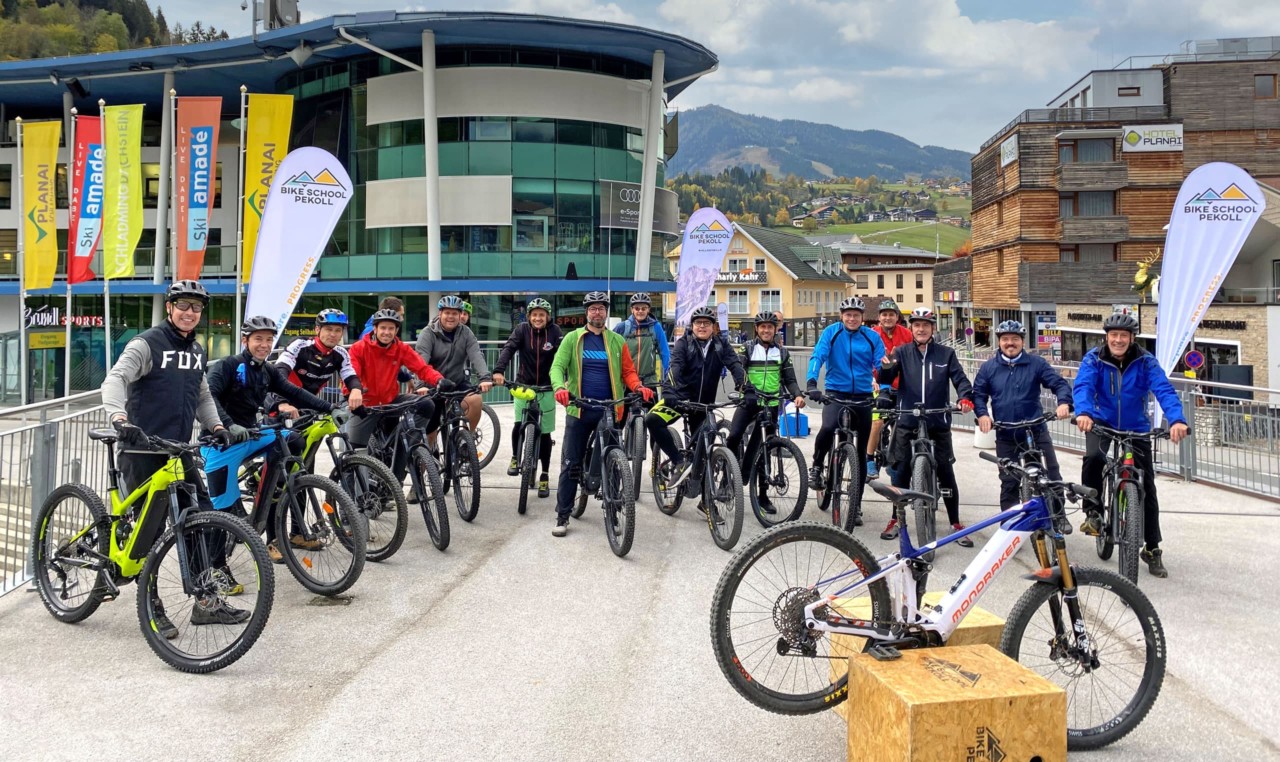 Are you looking for a special experience for your employees? Whether it's a team event or an incentive – everyone is talking about mountain biking nowadays! More and more people are discovering this sport which is close to nature for themselves! We – the BIKE SCHOOL PEKOLL – are the right partner for this.
At both of our bike school locations in the Bikepark Schladming and the Wexl Trails you will find perfect conditions to learn the sport safely, rediscover it or improve your skills.
We consider the Wexl Trails an ideal location for day events as these trails are located between Vienna and Graz. In addition, Schladming is the perfect place for a multi-day team incentive for employees.
Depending on riding skills, group size, and the desired focus when biking, we will put together an individual offer for your company. If your employees have no mountain biking experience, they can test their skills on the uphill trail, a trail specifically designed for uphill riding.
Furthermore, employees with a little more experience and a desire to ride downhill can enjoy themselves on the flow trail or the downhill cycle path. However, before setting off on the trails, all participants are well instructed by our bike school coaches. Hence, we can ensure that everyone, regardless of previous biking experience is ready for the trails.
As a result, by following our successful stage model RiDE.eXplore.PROGRESS. we can systematically prepare every participant to experience a safe but action-loaded mountain biking experience.
In addition, we take care of the on-site organization to ensure a successful experience for the whole company. Furthermore, we organize and reserve all rental bikes according to needs of your employees. Rental bikes are matched to the rider´s height, weight, and trail selection, as to the choice of riding an e-bike or a normal mountain bike.
To ensure a smooth process, from the inquiry to the day of the event, you will receive a form in advance in which you can enter important data such as prior biking experience of participants, height, etc.
Additionally, if you are interested in enjoying lunch at the huts in the Schladming Bike Park or the Wexl Trails, let us know beforehand, and we will make all necessary reservations. Remember, a short break and refreshment at one of the Planai huts with its breathtaking panorama rounds off the bike experience.
Finally, if employees do not want to go biking, Schladming and the Wexl Trails offer numerous alternative activities such as beautiful hiking trails, a motor skills park, and a summer toboggan run.
If we have sparked your interest don´t hesitate to call us at +43 664 1658171 or simply send us an email at info@bikeschoolpekoll.com.
We look forward to making you and your company a non-binding offer to boost team spirit and collect unforgettable moments.
ANY QUESTIONS ABOUT TEAM EVENTS OR INCENTIVES?