Bike Trailpark LANNACH
Small but surprisingly diverse Trail-Paradise for the whole family.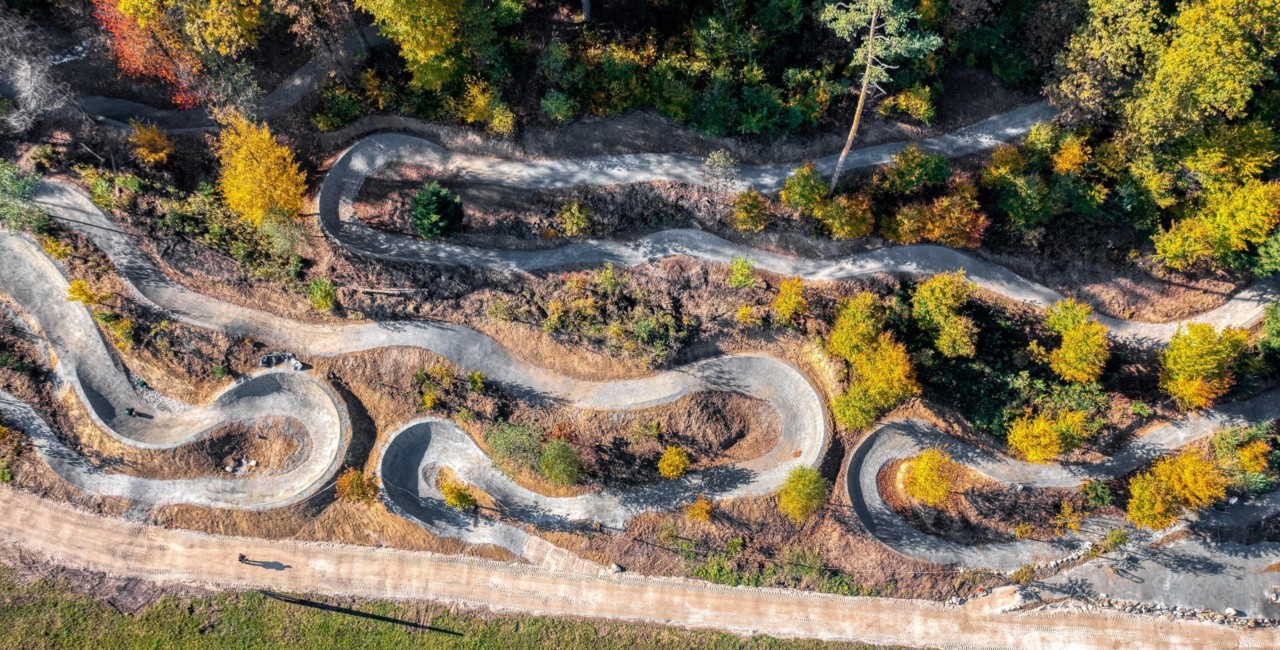 A currently unique and innovative EU flagship project realized in a small, urban space for bikers from Lannach and the surrounding area.
The small but exquisite Bike Trailpark Lannach was planned and built in record time. The official opening was celebrated on October 26th, 2021. The park offers a wide range of trails with a total length of around 4.3 km and is located in a forest area, spreading over around 4.6 hectares.
By opening the Bike Trailpark Lannach in addition to the already established regional bike parks such as the Bike Park Schladming and the Wexl Trails we are able to make Styria even more attractive for the mountain biking scene. Furthermore, such a great and extensive trail network for all levels of ability – from beginners to professionals – is rarely to be found in any small, urban area.
This innovative project has been designed and realized primarily for the local bike scene. It is based upon a concept that is deliberately not designed for mass tourism contrary to the large bike parks. However, given the trail variety, it can be considered as an ideal training playground where mountain bikers can go for some after-work rides or even take their kids on some flowy laps.
In addition to the great variety of trails, the trail names are a real highlight. For example, trails are named after endangered animals and plants to raise awareness for current problems. Furthermore, three comprehensive information boards about nature protection can be found in the skill areas. These can be used to discuss the protection of nature with children.
Taking the train to reach the bike park fits in with the sustainable environmental concept of this project, which is perfect as the Bike Trailpark Lannach is easily accessible by train from Graz and Wies-Eibiswald.
BIKE TRAILPARK LANNACH
Perfect practice area for all skill levels
With twelve different trails, three practice areas, a rest area with Park & Ride, bike parking spaces, toilets, a washing area, a self-service point, and vending machines for drinks and snacks, you will find everything a biker's heart desires. But most importantly, there are trails for every skill level. On a total trail length of 4.3 km, you will find trails marked with the colors green (very easy), blue (easy), red (medium), and black (difficult). Therefore, by looking at this variety, everyone will be able to ride and improve.
The starting area and the finish area are separated by a height difference of ~30 m. However, the starting area can easily be approached by riding the flat uphill trail. Furthermore, given the three specially designed practice areas, children and beginners of all ages can enjoy preparing for more advanced trails in a safe context. The next level of difficulty can be found in the green and blue trail area, where intermediate riders can train to gain more safety and fun within the downhill discipline.
Finally, anyone who has mastered all the preliminary stages within the bike park can slowly approach more advanced trails. Here, jumps and drops can be practiced which prepares everyone for the advanced jump lines in the park.
Looking at the variety of trails, the entire facility is considered an ideal playground for every rider regardless of age or skill level.
Additionally, the project focuses particularly on the needs of children and young people. For example, the location is used by the forest authority and the Styrian Nature Conservation association for tours with a focus on forest-related education. These, as well as all bike courses for beginners (RiDE.), advanced (eXplore.) to professionals (PROGRESS.) including e-bike courses and kids camps during the holidays and weekends, are offered by the BIKE SCHOOL PEKOLL.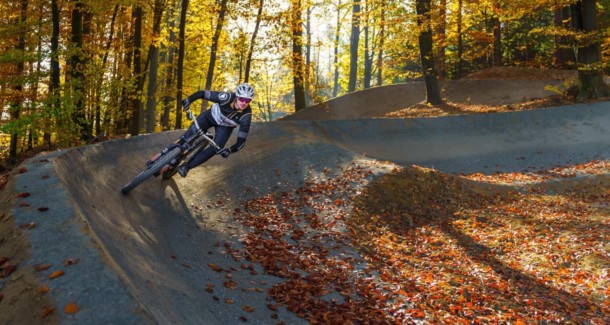 GET YOUR BIKE EXPERIENCE WITH US
YOU WANT TO KNOW MORE ABOUT THE BIKE PARKS?