Bikepark Schladming/Reiteralm Trail Details
#whataplace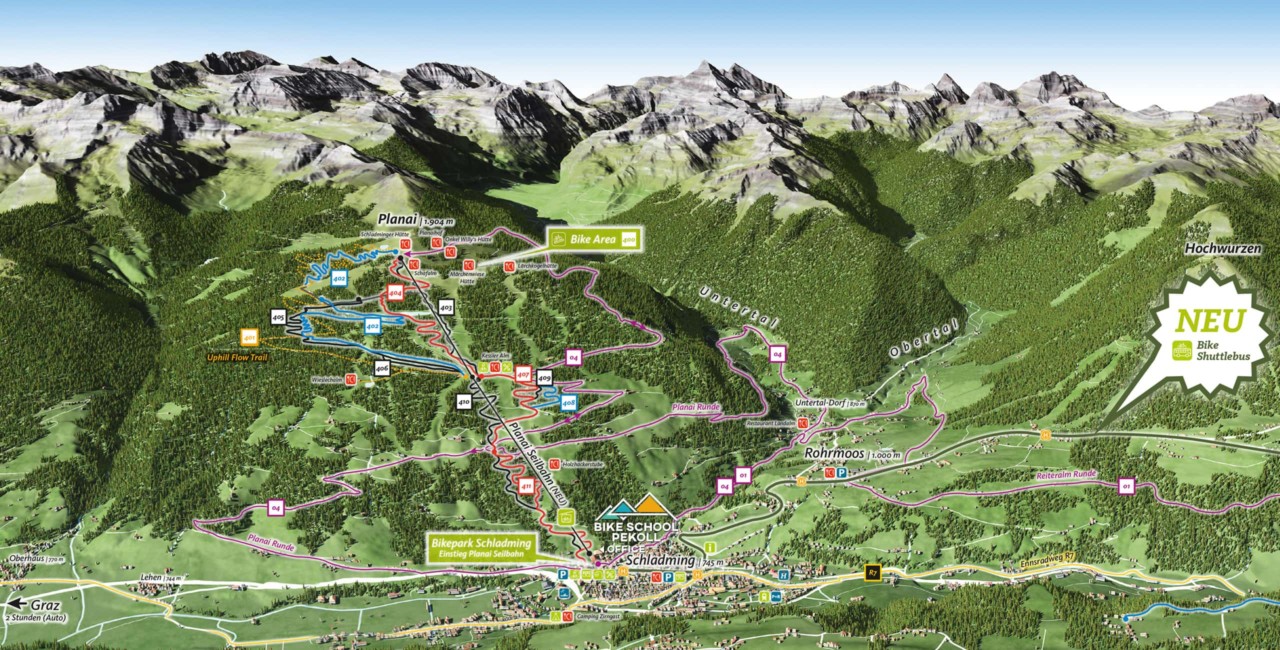 Someone who has never been to a bike park before or who wants to improve their skills will find beginner trails and tracks within the Bike Area of Planai. The Bike Area Planai is the first address for beginners who want to be coached within the basic bike handling skills of gravity-oriented mountain biking, to prepare for hitting the more challenging trails within the bike park
The isolated area offers 3 tracks covering green and blue difficulty levels (very easy, easy) which creates the perfect environment to learn how to mountain bike safely. Reaching a length of up to 450m those tracks are based upon a difference in altitude of 10m. Furthermore, the trails are designed to fit beginners of all age levels, as low gradients reaching from 3% to 8% do not allow high riding speeds, and the overall layout allows exits throughout the entire course. All trails are uprooted and offer plane and smooth surfaces. Additionally, veering off the trails does not come with consequences as crash zones are clean and grassed. The Bike Area´s design allows parents and coaches to observe the entire training area regardless of their position. Safety is a top priority to guarantee the best mountain biking experience possible. Getting back to the start on the top by using the conveyor belt is comfortable and safe.
The Bike Area is located beside the Märchenwiesenhütte at an altitude of 1743m near the Planai Gipfelbahn top station. The Hopsi Express connects the Bike Area and the top station and carries beginner riders. Intermediates can reach and leave the Bike Area riding the Rookie Trail (red, intermediate).
| | METRES IN ALTITUDE | LENGTH | DIFFICULTY | GRADIENT |
| --- | --- | --- | --- | --- |
| Whole Bike Area | 10 m | 790 m | green | flat |
| Super easy trail | 10 m | 450 m | green | Ø 2,2% |
| Very easy trail | 10 m | 216 m | green | Ø 4,6% |
| Easy trail | 10 m | 124 m | blue | Ø 8,1% |
THE BIKE AREA IS LOCATED IN THE HOPSI KINDERLAND. THEREFORE, WE HAVE TO PAY ATTENTION TO PARENTS AND CHILDREN WITHOUT BIKES AND RIDE AT WALKING SPEED OR PUSH OUR BIKES WHEN MOVING ALONGSIDE THE TRAILS.
The Flowline starts at the top station and follows a beautiful line with a minor gradient passing a scenic blackberry meadow as well as leading through larch and spruce forests directly to the middle station of Planai Gipfelbahn. The Flowline is the perfect family trail as it is smooth, easy, and intuitive.
Everyone who feels confident riding within the Bike Area will experience pure thrill riding the 8km long Flowline.
A mountain bike trail for families that resembles the characteristics of a pump track but goes downhill. Riders of all skill levels enjoy this trail as beginners can easily ride over rollers, intermediates can try their first jumps and experts can clear rollers within the smooth line of the trail. The Flowline is uprooted and free of rocks which makes the trail perfect for beginners exploring gravity mountain biking.
Tip: Reaching the start of the Flowline by taking the Uphill-Flow Trail riding an e-bike is a decent leg training. Alternatively, the Planai cable car offers a comfortable ride to the top! The skill courses RiDE. and eXplore. match the difficulty of this trail.
Start: Top Station of the Planai 10-Seater Gondola
Finish: Middle Station of the Planai 10-Seater Gondola
| | METRES IN ALTITUDE | LENGTH | DIFFICULTY | GRADIENT |
| --- | --- | --- | --- | --- |
| Flowline | 477 m | 7670 m | blue | Ø 7% |
Have you ever heard of our Uphill Flowtrail?
We designed this trail for e-bikes as those are on everyone´s lips. This trail is all about speeding uphill whilst riding smooth rollers and experiencing pure flow. To describe this amazing feeling to someone who has not had the chance to try it out is rather difficult. Therefore, the Uphill Flowtrail offers you the unique opportunity to experience it yourself.
The Uphill Flowtrail starts at the middle Station of the Planai 10-Seater Gondola. The trail is about 1m wide and twists and turns its way up to the top station of the Planai Gondola. In between, there are a couple of recovery sections on the forest road that guarantee a maximum of fun when re-entering the trail.
Do you want to ride a particular section a couple of times? No Problem. The Uphill Flowtrail meets the Flowline repeatedly and therefore, riding one section again is no problem.
Start: Middle Station of the Planai 10-Seater Gondola
Finish: Top Station of the Planai 10-Seater Gondola
METRES IN ALTITUDE
LENGTH
DIFFICULTY
GRADIENT
Uphill Flowtrail
477 m
8000m
(5 km trail, 3km forest road)
blue
Ø 6,5%
The Jumpline within Bikepark Schladming is the holy grail for whippers and stylers.
Alongside its length of 3,5km you can find massive airtime on perfectly shaped jumps with 3 to 8m length. If that is not enough for someone, the Monsterline located at the end of the trail offers enormous booters with up to 12m long tables.
In Austria, we have been dreaming of such a Jumpline for a long time. Now, there it is. Nearly all jumps are designed as tables and can be ridden without jumping. Jumps with gaps can be by-passed without having to sacrifice any speed for the next section.
It is very important to inspect the Jumpline before hitting it at full speed. Increasing the speed in a couple of test runs is the safest way to shred with style and stay injury-free. Safety should be your top priority.
Start: Junction "Klangpiste"
Finish: Middle Station of the Planai 10-Seater Gondola
| | METRES IN ALTITUDE | LENGTH | DIFFICULTY | GRADIENT |
| --- | --- | --- | --- | --- |
| 99 Jumps & Monster Jumpline | 479 m | 3180 m | black | Ø 9% |
Riding this race track you are following the tracks of downhill legends such as Sam Hill. The multiple world cup winner elected Schladming as his favorite track. Also, Brendan Fairclough and Josh Bryceland enjoyed shredding on this #besttrackever
Nothing for beginners – Excellent skills and nerves of steel are required to ride this trail.
Start: Middle Station Planai 10-Seater Gondola
Finish: Bottom Station of Planai 10-Seater Gondola
| | METRES IN ALTITUDE | LENGTH | DIFFICULTY | GRADIENT |
| --- | --- | --- | --- | --- |
| Worldcup Downhill | 596 m | 2550 m | black | Ø 40% |
#therideofyourlife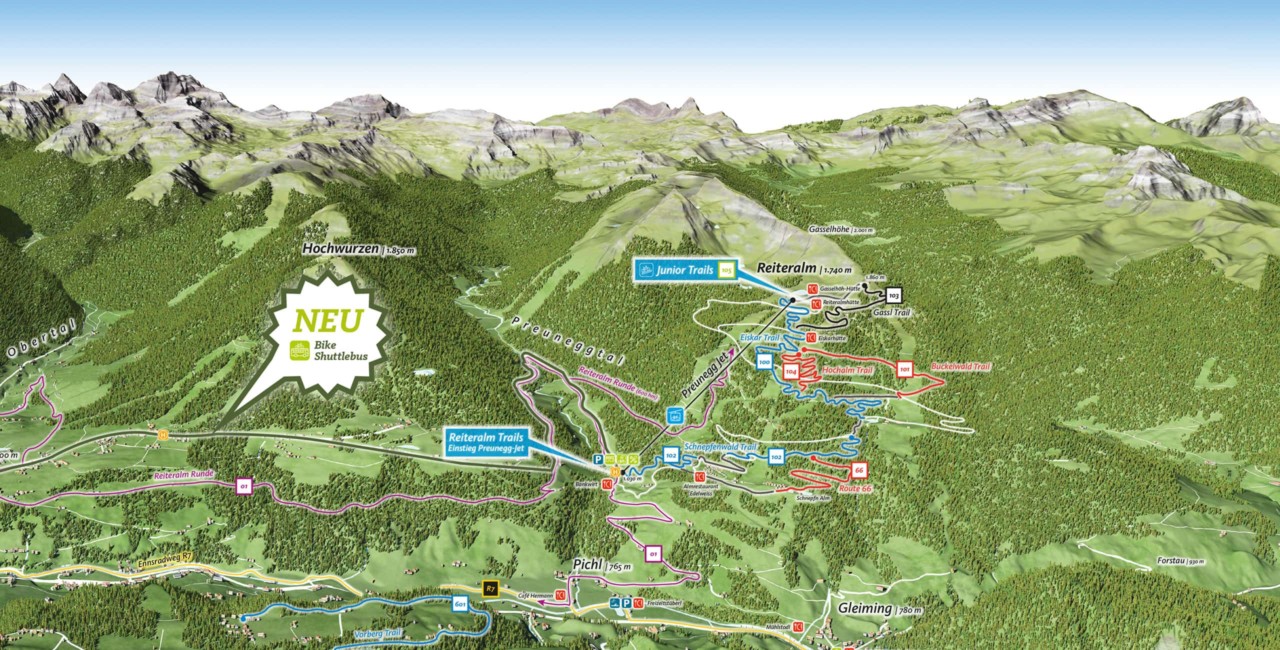 Starting at the top station of the Preunegg Jet a 1 km long, challenging uphill climb leads to the starting point of the Gassl Trail. Reaching the top is rewarded with a beautiful panorama offering a glance at the Dachstein.
Scenic crossings below cliffs and tight corners make biker hearts beat faster and will get your adrenaline pumping. The Panorama Trail offers very special photo spots, where riders can catch their breath.
Start: Top Station of Preunegg Jet
Ziel: Bottom Station of Preunegg Jet
| | METRES IN ALTITUDE | LENGTH | DIFFICULTY | GRADIENT |
| --- | --- | --- | --- | --- |
| Panorama Trail | 188 m | 1870 m | blue | Ø 2,2% |
The Eiskar Trail which starts directly at the top station of the Preunegg Jet is free of obstacles and drops, which makes it perfect for beginners. The trail is smooth and flowy which allows to stay off the brakes occasionally. The Eiskar Trail and the Schnepfenwald Trail are connected through a 300m forest road.
The first section of the Schnepfenwald Trail offers a rather straight line with multiple pumps that allow fast riders to jump and clear one or the other pump sequence. The second section starts after a short ride on the Reiteralmstraße and convinces with a varied, technical line equipped with wooden elements that leads directly to the bottom station of the Preunegg Jet.
Start: Top Station of Preunegg Jet
Finish: Bottom Station of Preunegg Jet
| | METRES IN ALTITUDE | LENGTH | DIFFICULTY | GRADIENT |
| --- | --- | --- | --- | --- |
| Eiskar Trail and Schnepfenwald Trail | 687 m | 7500 m | blue | Ø 2,5% |
COMMON SENSE
Fair Play
Close all pasture gates. Protect and respect nature and animals. Do not litter the nature around you. Avoid being unnecessarily loud. Stay on marked trails and avoid leaving skid marks. Look out for agricultural vehicles. Mind your speed and be ready to stop at any time needed. Be aware of other bikers and hikers. Hikers have priority, particularly on narrow trails. A friendly "Hallo" ensures a good vibe. Look out for wildlife, pets, or farm animals on the tracks. Follow and respect signs. Only ride wearing a helmet. Only ride a maintained bike free of any technical issues. Choose lines and trails according to your skill level. Bring weatherproof clothes, tools, and an additional tube.
SAFETY
Pre-RiDE. & eXplore.:
Inspect trails and features carefully, to prepare effectively for a new day on the mountain.
Re-RiDE. & eXplore.:
Ride one trail a couple of times to get to know its characteristics and special features. Experience flow.
Free-eXplore. & PROGRESS.:
Increase riding speed and radicalness according to your skill level and approach bigger features carefully.