Trailspark Wexl trails
#Ridewithaview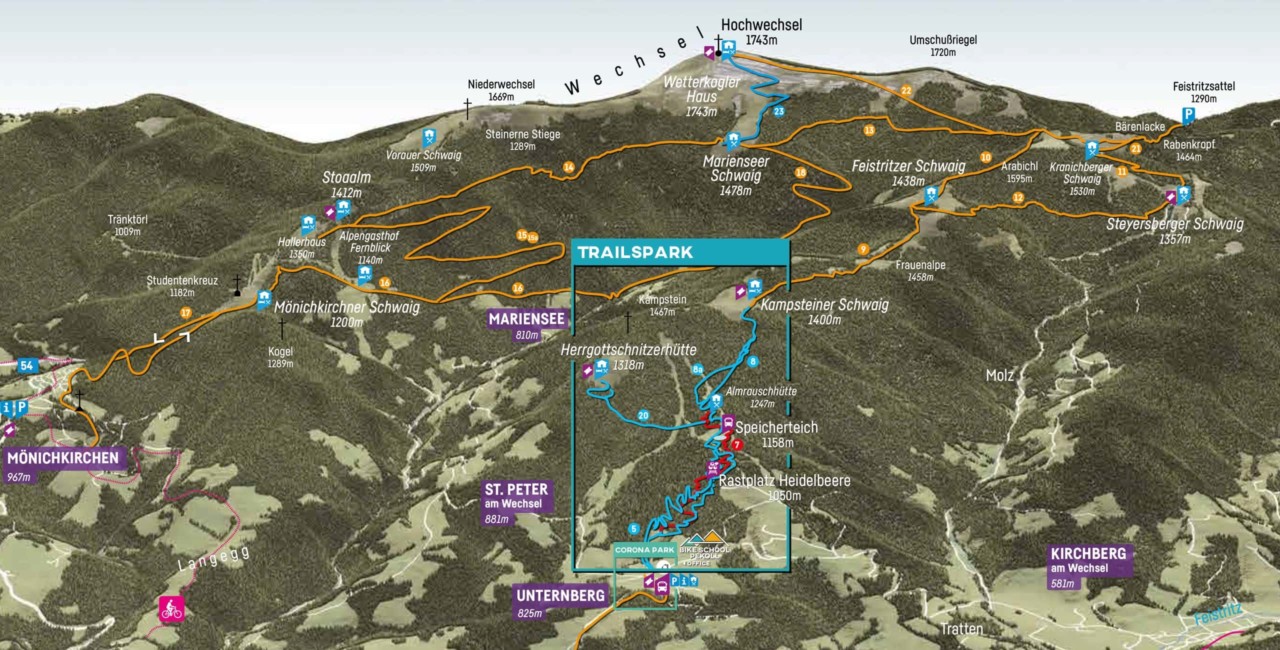 Starting with the age of 3 rookies can discover their passion for mountain biking. Regardless of riding mountain bikes or balance bikes our juniors can give it a go and boost their skills here. When having mastered the Easy-Line with smooth rollers, bumps and berms, kids can advance once more to a line with higher berms. The kids will safe a lot of energy by using the 90m long conveyor belt.
Start: End Conveyor belt Wexl Arena
Finish: Start Conveyor belt Wexl Arena
| | METRES IN ALTITUDE | LENGTH | DIFFICULTY | GRADIENT |
| --- | --- | --- | --- | --- |
| Wexl Arena | 10 m | 400 m | green | flat |
With 4,5 km in length, smooth rollers, and an uprooted surface the Flowtrail will light up faces of freeriders, e-bike beginners, and motivated kids – along the lines of "surfin´trails".
Alongside the trail you will find several resting spots where you can pick blueberries in the meadows and enjoy beautiful views.
Start: Reservoir pond
Finish: Wexl Lounge
| | METRES IN ALTITUDE | LENGTH | DIFFICULTY | GRADIENT |
| --- | --- | --- | --- | --- |
| Flowtrail | 215 m | 4500 m | green | Ø 7% |
The 5,3km long Uphill-Flowtrail guarantees pure uphill action for young and old. Even advanced bikers experience a completely new riding as e-bikes generate enough speed to jump over tables as well as to maintain the speed riding berms when going uphill. Getting to the top is rewarding as the downhill Flowtrail is already waiting. Giving it a try pays off.
Start: Wexl Lounge
Finish: Reservoir pond
| | METRES IN ALTITUDE | LENGTH | DIFFICULTY | GRADIENT |
| --- | --- | --- | --- | --- |
| Uphill Flowtrail | 215 m | 5300 m | blue | Ø 7% |
The start is located next to the Almrauschhütte at 1247m above sea level. The first section is the newly built part of the Single Trail that leads over roots and rock garden to shortly before the reservoir pond. From there on riders will cruise through an easy and curvy section that ends besides the pond. Having arrived at this point the trail leads downhill into the direction of St. Corona am Wechsel.
Riders start parallel to the Flowtrail and can decide to switch between the two trails after riding each section. The varying design exposes riders to several jumps, bumps, and rooty sections which makes the trail challenging and special. One of the highlights is the 3m drop at the end of the last section, but don´t worry the drop can be easily by-passed.
In the end the Single Trail leads into the Flowtrail and riders return to the Wexl Arena by cruising through smooth and flowy curves. Having arrived there, you could take the bike shuttle back up, conquer the Uphill Flowtrail again or enjoy the delicacies served in the Wexl Lounge.
Start: Almrauschhütte
Finish: Wexl Lounge
| | METRES IN ALTITUDE | LENGTH | DIFFICULTY | GRADIENT |
| --- | --- | --- | --- | --- |
| Single Trail | 320 m | 2500 m | red | Ø 9% |
COMMON SENSE
Fair Play
Close all pasture gates. Protect and respect nature and animals. Do not litter the nature around you. Avoid being unnecessarily loud. Stay on marked trails and avoid leaving skid marks. Look out for agricultural vehicles. Mind your speed and be ready to stop at any time needed. Be aware of other bikers and hikers. Hikers have priority, particularly on narrow trails. A friendly "Hallo" ensures a good vibe. Look out for wildlife, pets, or farm animals on the tracks. Follow and respect signs. Only ride wearing a helmet. Only ride a maintained bike free of any technical issues. Choose lines and trails according to your skill level. Bring weatherproof clothes, tools, and an additional tube.
SAFETY
Pre-RiDE. & eXplore.:
Inspect trails and features carefully, to prepare effectively for a new day on the mountain.
Re-RiDE. & eXplore.:
Ride one trail a couple of times to get to know its characteristics and special features. Experience flow.
Free-eXplore. & PROGRESS.:
Increase riding speed and radicalness according to your skill level and approach bigger features carefully.