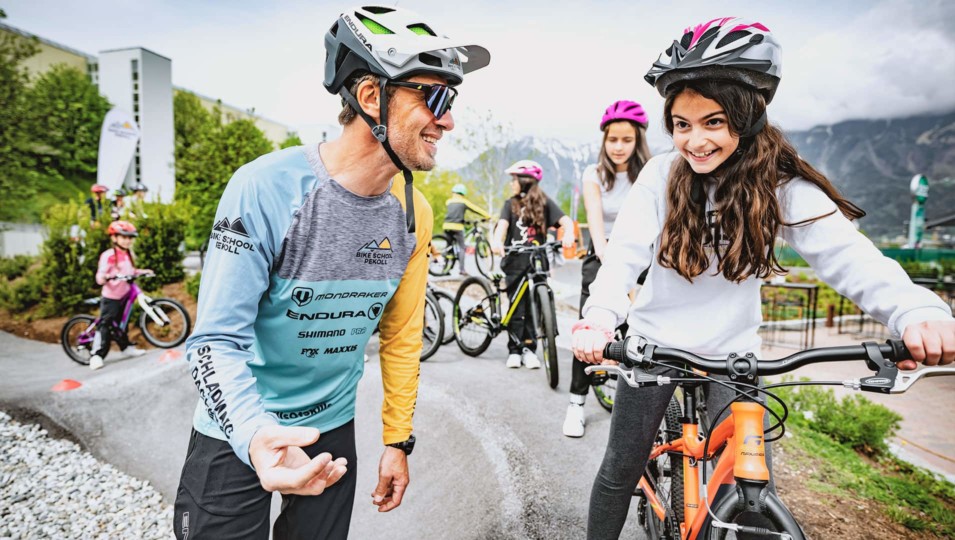 Training
School of Pump
03.03.2023
Pumptracks are the ideal to improve your cycling skills. By the way you also train strength, condition, coordination and bodily feelings.
Together with INTERSPORT Austria and LINES Magazine, we have set ourselves the task of getting kids and young people excited about cycling with the SCHOOL OF PUMP project.
The result is a pump track school tour that stretches across Austria. In addition to the cycling examination, we offer coachings on pumptracks for fourth graders of elementary schools so that they feel safer on the bike. In a double lession, two of our well-trained coaches teaches them the correct riding technique on the bike in a playful and competent manner, with a focus on safety and fun when cycling.
The SCHOOL OF PUMP is completely free for schools and for students. INTERSPORT Austria provides rental bikes and rental equipment. On top all participants get a cool goodie bag in form of a gym bag and a certificate for participating at the end of each unit!
The units with the students take place in the morning. In the afternoon our coaches are available for everyone from 2 – 4pm. Everyone is cordially invited to get tips and tricks from the pros and try out the INTERSPORT test bikes.
Current tour dates:
👉 Linz (21.03. – 23.03.2023) at the Schachermayer Hello Yellow pump track
👉 Knittelfeld (12.04. – 13.04.2023) at the pump track next to the swimming pool
👉 Klagenfurt (18.04. – 19.04.2023) at the pump track at Jumpworld One
👉 Innsbruck (24.04. – 27.04.2023) at the Circle pump track
👉 Substitute for Innsbruck – Knittelfeld (25.04. – 26.04.2023) at the pump track next to the swimming pool
👉 Vorchdorf (09.05. – 11.05.2023) at the Naturefriends pump track
You are a teacher at an elementary school and the SCHOOL OF PUMP sounds promising to you? Then get in touch with us, because the SCHOOL OF PUMP will enter the next round in 2024.
SCHOOL OF PUMP
powered by LINES & sponsored by Intersport Austria